Negative targeting is the set keywords and product pages on which you don't want to advertise your product. It is used to exclude irrelevant terms and improve budget efficiency. Exclusion is done by adding negative keywords and negative product pages.
Negative keywords
They are of two types: negative phrase match and negative exact match.
Negative phrase (recommended): Excludes the search term and all those that contain that word within. For example, by excluding "iphone", you will not receive traffic from "iphone", "iphone cover", "cover iphone" etc.

Negative exact: Excludes only one search term. For example, if you exclude "iphone," you will continue to appear for those who search for "iphone covers" but not for those who search exactly for "iphone."
Negative product pages
In Advigator you can exclude individual ASINs of competitors, or based on a common characteristic:
Products from a brand
Products belonging to a browse node (category)
Products with a certain word in the title
You may find irrelevant keywords and products to exclude in targeting, suggestions or from Analytics.
Add negative from Targeting
Targeting contains the keywords selected by Advigator that will be included in the campaign. But some of these may be irrelevant, and it makes sense to exclude them. You can remove all search phrases connected to a word. You may also choose to only exclude the word in that perticular phrase. Same goes for competitors' product pages.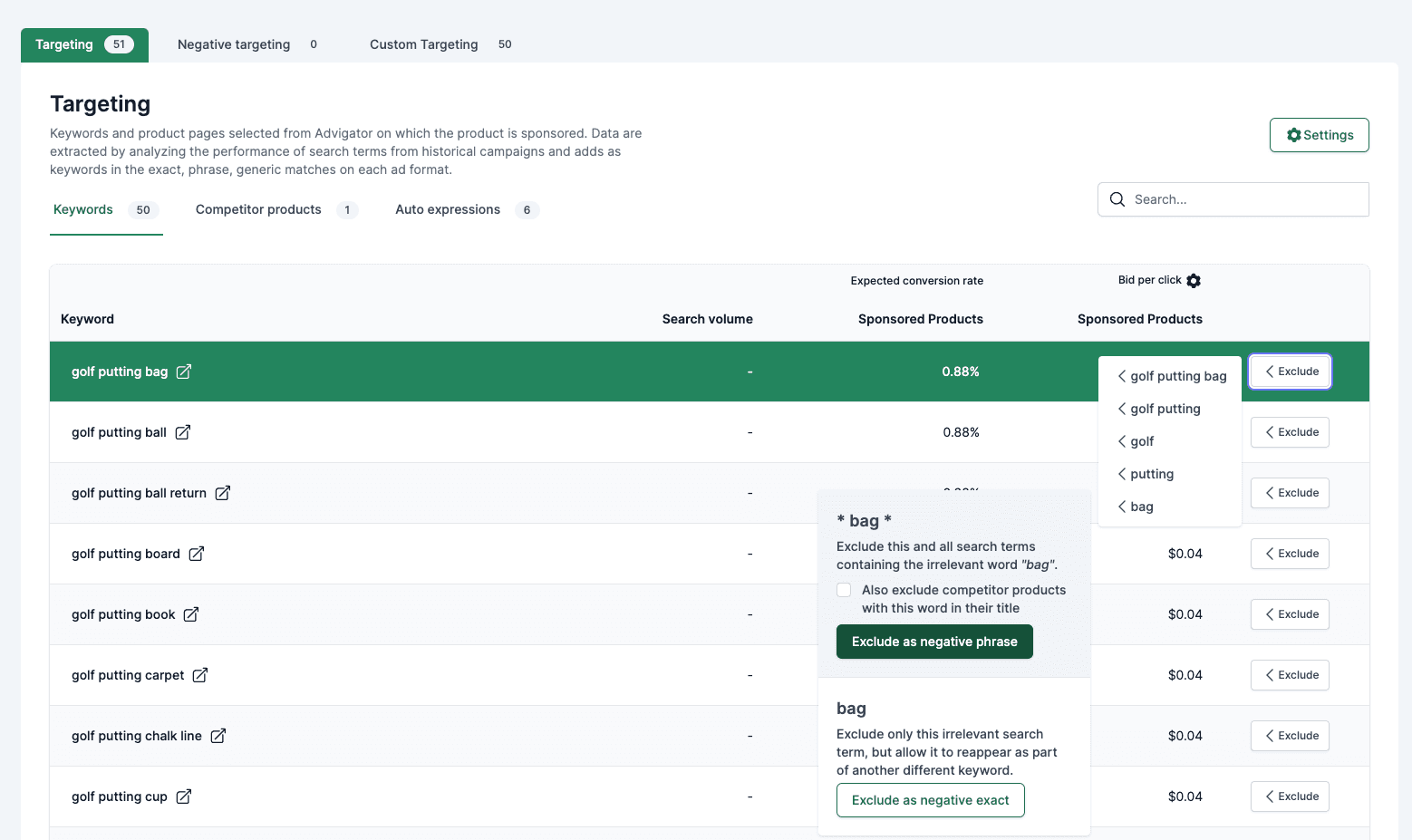 Add negative from the suggestions
By analyzing historical data, possible irrelevant terms are extracted according to certain criteria:
Search terms without orders from auto expressions and phrase/broad match types
Single most frequent words found in search terms without orders
Competing product categories without orders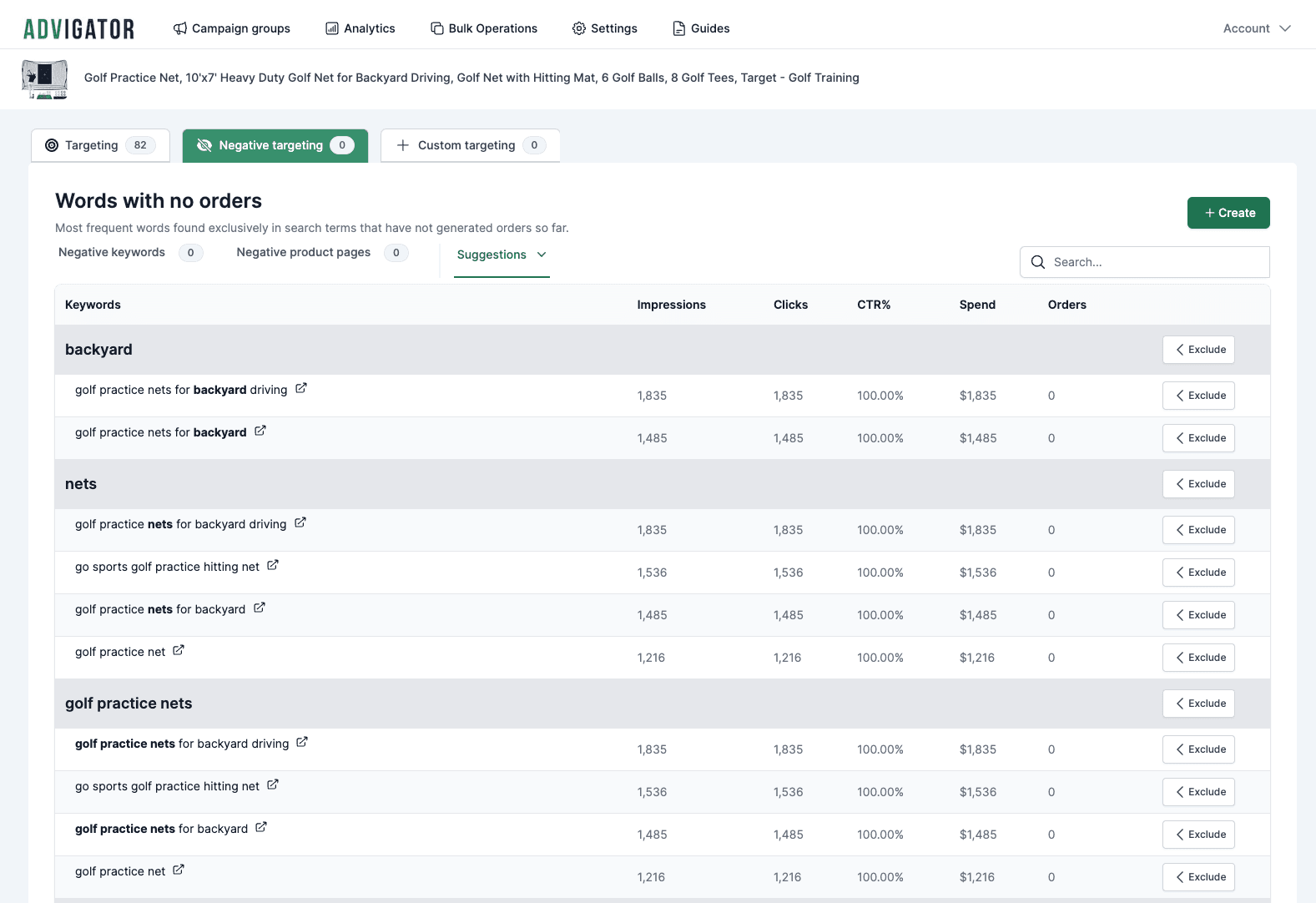 Adding negatives from Analytics
In Analytics, you find the data generated by Advigator campaigns. It is equivalent to analyzing the Amazon Ads console search terms report. Stricken through search terms are those that have historically generated traffic, but then been excluded by a negative keyword.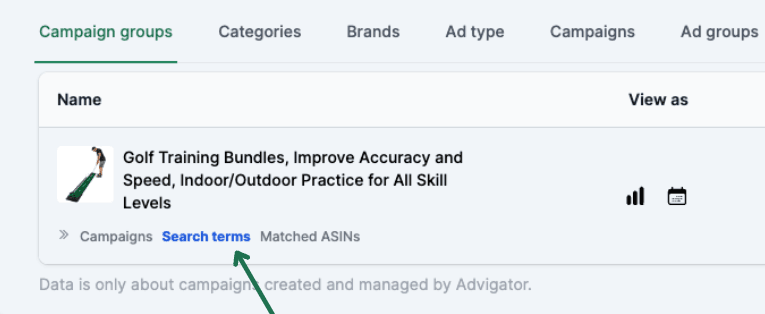 Add negative manually
You will be able to manually add a list of negative keywords and product pages by going to "Negative Keywords."

Bulk operations
Use bulk operations to enter the same negative keyword/product on multiple campaign groups. Filter products by title, category, or brand and enter the list of negative keywords. If you make a mistake, you can go to the "remove negative" tab to remove them from multiple campaign groups.